We accompany you for already 37 years!! (1985-2022)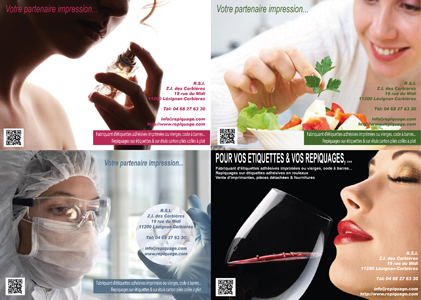 R.S.I. or the desire to react effectively.
It has been already 37 years this year since we works for companies in coding, printing and overprinting services. We prints as well with the biggest companies of the perfume -cosmetic, pharmaceutical companies, food-processing industry than the SME(small and medium-sized enterprise).
Every project being for us, the opportunity to demonstrate our reactivity and our professionalism to develop a win-win relation.
UAn estimate reaches you generally within the hour after your request. And it is not rare to send labels the day of the order if we take as example the manufacturing of adhesive labels rolls.
Furthermore, an integrated department assures you the elaboration of a copy to press within half an hour when a photocomposition is necessary to present before printing.
React effectively while reducing the environmental impacts bound to the activities of the printing office

Proud of a past when the ecology was not still in the heart of the concerns, RSI has proposed from 1985 an overprinting department for companies to avoid that an already printed bound case is discarded due to the lack of an information or of an error in the text and it is true by adding or by masking in direct printing, the new applicable mentions. Since then, RSI applied this service of overprinting to the domain of the label, the flexible packaging in rolll while having in heart to develop the other innovative concepts. It is so, that at the beginning of 2000s, the wine label with the detachable strip appeard.
RSI is also a distributor of printing machines in thermal transfer, inkjet for reprinting and the creation of labels but also in the supply of marking and consumables.
Our society in few words :
Rush (up to 70.000 cases in the daytime) - Acquired experiences since 1985 - Wide Range of techniques of printing (gilt, thermal, digital transfer, typo, screen printing, flexography, ink jet) allowing to propose all the quantities (From the prototype to important quantities of more than a million copies.) - respect for delay - Validation of our performances by renowned companies.